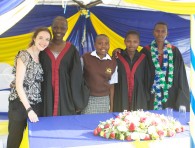 March 9
Just a quick note to say I just came back from Muhuru Bay where I was honoured to shoot the graduation ceremony for the pioneering class of WISER.
It was an amazing, emotional day to see these young women graduate (100% of them passed their exams, 17 of the 28 qualified for university and 13 of these obtained an immediate full scholarship – incredible!) and prove to their community and the world that girls can make it, be successful and fulfill their potential. They are role-models and advocates for investing in girls education. Absolutely no girls from Muhuru Bay have gone to university in over 20 years and the gender discrimination has meant the lives of girls in this area have often been very tragic. This has all been changed.
WISER is incredible, and without the support from a truly amazing faculty and supporters around the globe, this would not have been possible.
So here's to you,Wiser girls, and here's to everyone that made this wonderful NGO possible – you are all such brilliant people and I am truly humbled and blessed to have worked with you. The graduation was the accumulation of all this hard work, which will continue, and boy what a day it was! There was singing, laughter, celebration, tears of joy, and a tangible sense of change as these powerhouses made their mark on Kenya. Thank you for letting me a part of it and I hope you are all very proud.
To those reading this: watch this space for the graduation film, where you'll be able to see this wonderful and monumental day yourselves!
Inspiration: coming soon….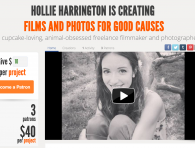 February 18
Hey!
Just thought I'd give you the heads up about Patreon, a fantastic new website where you can support and engage with creators all over the globe. It's a great innovation and I am shamelessly here to tell you about my very own page:
Please feel free to go and have a look and, if you can, I'd love for you to become a Patron! I would greatly appreciate the support because, like I explain in more detail on the site, my aim is that if I can get enough of a production budget per video or photography project from kind patrons, I will eventually be able to offer my services free of charge to amazing non-profits that can't afford to pay (or at a discount for those that can only pay a little.) I would truly love to be able to do this to help smaller organisations in much need of a marketing boost – I know it would really make a huge difference to them.
This is my dream. Please help me reach it!
If you can, please become a patron (read my blurb in the above link or the site to see how it works) but if you can't – I completely understand, just please keep sharing my Patreon site and spreading the word!
Thanks so much for all your continued support.
All the best.
I've been sitting here trying to adequately put into words how the time I spent at WISER affected me, but I can't find the ones that will do this wonderful place justice. But here's the story:
I lived, worked and breathed a phenomenal organisation a few weeks ago for 4 days called WISER. Based  in the small, isolated village of Muhuru Bay, on the banks of the vast Lake Victoria, this organisation is changing the lives of the poorest girls living in the most difficult situations.
There is no real economical activity in the region, except for fishing as it lies right on the banks of lake Victoria. But this is both a blessing and a curse: it provides one of the only steady sources of food, but as most people do not have any economic income, and therefore no money to even buy food, girls are forced to sell themselves for next to nothing to the fishermen just to survive. The statistics are shocking: 50% of sexually active 10-16 year old girls are forced to have transactional sex to get money for school, food or sanitary pads. This is also in an area where HIV/AIDS prevalence is a staggering 38%. But the girls have no choice. And it often leads to pregnancy or illness.
Add on to this the huge cultural difficulties: the village is a very patriarchal society, where many husbands have several wives. Girls and their education are not valued, and most of them will not go to school as families prefer to spend the little money they have to educate their sons instead. Most girls will only go to primary and the majority drop out before they are 14. Girls are then left with no options except begging for food, selling themselves, or the very common choice: early marriage. Many of the girls at WISER have been down these routes. Girls' worth are seen as their dowry – just a few cows or similar. So they will often marry older men when they are just young teens, then they get pregnant and drop out of school and the cycle begins again.
But then there was WISER (the Women's institute for Secondary Education and Research).
It is amazing. It is a boarding secondary school offering top quality education for very bright girls in the area, all for free. They receive applications every year and pick 30 girls from the local community who have passed their exams and have big potential but no means to get an education. Then they live at the WISER campus, a very nice, safe environment where they have dormitories and beds with mosquito nets (often the first time the girls have ever slept in a real bed) and four square meals a day, which is practically unheard of outside. Most of the time they would do well to have one or two, and even then it would be beyond basic and badly balanced.
They study a full curriculum and are very intelligent. When I arrived on campus, lessons were underway and I peeked in and took some shots. They were learning physics, chemistry and one class was learning about the history of Kenyan elections and politics in another room. Each girl had a story of such difficulty and yet they are flourishing so well and are spreading such important views amongst the society: that girls are equal, that they have a voice and that they WILL succeed. It was just so wonderful. The society is taking note, too – people respect the WISER girls and their views and starting to trickle to the general community. They are learning that educating girls is important. And furthermore, WISER has created competition in the area: girls are studying harder than ever to get in, seeing how it has benefitted the others. This is great as more girls are in school (a large part of it is WISER Bridge – the programme that is keeping primary schools and girls on track and transitioning to secondary education) and are working hard to change their future.
The teachers are also incredible: dedicated changemakers with the kinds of attitudes that Kenya needs. The male teachers were an inspiration, challenging patriarchal viewpoints. And they are so hardworking: most girls will request to stay in school even during the month break they have – as life is so much easier… and so the teachers will stay too and pass up any break they may have had as they also live in campus.
WISER also has a clean water programme/kiosk for the local community, a garden where the girls eat nutritious food and can sell it to people outside too. It has classes on HIV risk reduction, a reproductive health awareness programme, etc. The list is endless.
They have been running for four years, and they have four forms (year groups) so currently they are at full capacity of 120 girls for the first time and this coming March will be the first ever graduation. Then the girls will go on to bigger and better things – university and beyond.
And as I write this, I have humble tears of inspiration and pride welling in my eyes. You go, WISER girls. You have changed me and I know you're going to change the world.
More information can be found on their website here: wisergirls.org and my film about WISER is now online for you to view. Don't hesitate to let me know what you think.
WISER is an incredible organisation that deserves all the help it can get so let's keep spreading the word about the fantastic work they are doing. As for the girls – they are simply amazing…. they are the future.