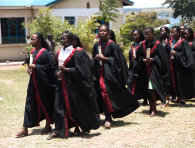 May 18
Hello all!
Finally, after a short delay….  the WISER Graduation film is here!
It has been a pleasure to work on such inspirational footage, and I hope you enjoy watching this momentous day half as much as I enjoyed filming it. I love reliving the pride, the hope, the excitement and the tangible sense of change and feel honoured to have captured this very special day.
This is for you, pioneering class of 2013, and for all the girls that will follow in your impressive footsteps. You have worked hard and paved the way for the future generations of girls in Muhuru Bay and nationwide.
You are the future of Kenya and you humble me every single day.
For that, I say thank you.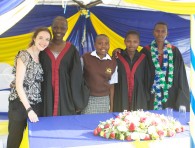 March 9
Just a quick note to say I just came back from Muhuru Bay where I was honoured to shoot the graduation ceremony for the pioneering class of WISER.
It was an amazing, emotional day to see these young women graduate (100% of them passed their exams, 17 of the 28 qualified for university and 13 of these obtained an immediate full scholarship – incredible!) and prove to their community and the world that girls can make it, be successful and fulfill their potential. They are role-models and advocates for investing in girls education. Absolutely no girls from Muhuru Bay have gone to university in over 20 years and the gender discrimination has meant the lives of girls in this area have often been very tragic. This has all been changed.
WISER is incredible, and without the support from a truly amazing faculty and supporters around the globe, this would not have been possible.
So here's to you, Wiser girls, and here's to everyone that made this wonderful NGO possible – you are all such brilliant people and I am truly humbled and blessed to have worked with you. The graduation was the accumulation of all this hard work, which will continue, and boy what a day it was! There was singing, laughter, celebration, tears of joy, and a tangible sense of change as these powerhouses made their mark on Kenya. Thank you for letting me a part of it and I hope you are all very proud.
To those reading this: watch this space for the graduation film, where you'll be able to see this wonderful and monumental day yourselves!
Inspiration: coming soon….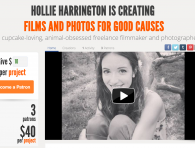 February 18
Hey!
Just thought I'd give you the heads up about Patreon, a fantastic new website where you can support and engage with creators all over the globe. It's a great innovation and I am shamelessly here to tell you about my very own page:
Please feel free to go and have a look and, if you can, I'd love for you to become a Patron! I would greatly appreciate the support because, like I explain in more detail on the site, my aim is that if I can get enough of a production budget per video or photography project from kind patrons, I will eventually be able to offer my services free of charge to amazing non-profits that can't afford to pay (or at a discount for those that can only pay a little.) I would truly love to be able to do this to help smaller organisations in much need of a marketing boost – I know it would really make a huge difference to them.
This is my dream. Please help me reach it!
If you can, please become a patron (read my blurb in the above link or the site to see how it works) but if you can't – I completely understand, just please keep sharing my Patreon site and spreading the word!
Thanks so much for all your continued support.
All the best.